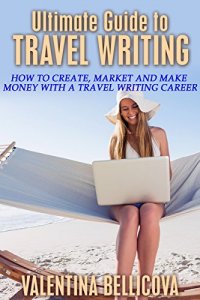 Travel Writing: ticket to travel the world on someone else's dime, make money and live a life of unbridled adventure
Read on your PC, Mac, smart phone, tablet or Kindle device

The notion of travelling on someone else's dime and getting paid to write about your exploits is seductive indeed. Until recently the profession of travel writing was reserved for a few and the threshold for entry to these exalted ranks was difficult to attain. With the advent of the internet all that changed. Travelers of all stripes began to publish blogs about their exploits, adventures and misadventures. The profession of travel writer was no longer the domain of a few. Well written travel blogs attracted readers like bees to honey, readers who were eager to vicariously live and experience the life and travels of their favorite travel bloggers.

Today travel writers and travel bloggers alike are forging their own success. Membership in the six-figure income club is growing and a few have even broken the sevens!
Is a travel writing career right for you?
Do you love to travel but don't have the time or money to do more of it Are you naturally curios Can you write

If you answered yes this book is for you. Here is a preview of what you will learn
steps you need to take to launch your travel writing career How you can begin travel writing and make money even if you have none How to set up a blog How to choose your niche How to monetize your blog How to re-purpose your content How to promote yourself and market your servicesHow to nail paid travel gigs…and so much more

Download your copy today!

Take action today and download this book for a limited time discount of

$0.99! Take action right away to begin living your life on purpose with abundance and prosperity today by downloading this book, "Ultimate Guide to Travel Writing"