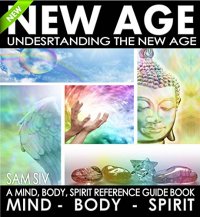 Free on 20th Mar 15



or borrow free on Kindle Unlimited.
No reviews yet.
★★★Understanding The New Age, A Mind, Body, Spirit Reference Guide Book★★★
Find out what the New Age is, when it started, and what it means for you. This book covers all the major elements of New Age thought, from alternative medicine to the mind…
This book takes an in-depth look at the New Age, and what it has added to our understanding about the inner world of the mind, as well as the outside world, and the vast cosmos. Looking at both the science and the mythology behind many New Age ideas, we will consider all the major branches, and some of the people involved in the inspirational movement. The book deals with the many New Age ideas related to mind, body and spirit, and how these have formed an undercurrent in popular history since the 1960's. Combining the advancement in Scientific thought with the ancient, long forgotten wisdom from around the globe, the New Age movement has changed our world view, and our understanding of reality.
Some important New Age ideas:
✔The Ancient and Modern History of the New Age

✔Numerology, Astrology, Shamanism, Crystals and more

✔The mind, consciousness, awareness and mindfulness

✔New Age Music and Binaural beats

✔Psychokinesis, Telepathy and Clairvoyance

✔The interaction of mind body and Spirit

✔What is the spirit, what are chakras and the Astral body

✔Lucid dreaming and Near death experiences

✔The New Age gurus

✔How the New Age influenced culture

✔Ideas from Lao Tzu, to John Lennon

✔The hidden powers of the mind

✔The spirit world and the New Age

✔New Age challenging the old paradigms

✔What is useful and what isn't

✔Much, much more!
Learn more today about your own mind, body and spirit, and find out what the New Age will bring; download this book, "Understanding The New Age".
Download Today!
Tags: new age, new age books, meditation, mindfulness, natural healing