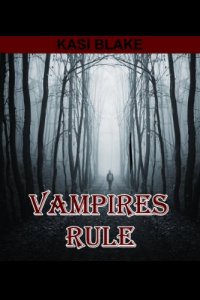 They don't call him Jackpot for nothing.
Jack was barely seventeen when a werewolf slaughtered his parents and ripped his throat out. Lucky for him, there were vampires nearby. Summer liked him on sight, so she infected him and gave him new life as a vampire. His only remaining family, a younger brother, buried him and tried to move on. Jack couldn't. His body and heart remained frozen in time, and that's why he does it, why he takes a trip home every year. Feeling nostalgic, he walks through the house and touches his former possessions. Then he visits the cemetery and stares down at an empty grave with his name on it. This has been Jack's life for ten years… but this year something incredible happens.
Jack is at the cemetery when he sees a beautiful girl about to get killed by a werewolf. Misunderstanding the situation, he jumps in to save her and is wounded. He watches in awe as she kills the werewolf with a gentle touch. This is Silver, THE werewolf hunter, and she didn't need his help but still appreciates it. Unfortunately for Jack, a single scratch from a werewolf can kill a vampire. As far as he knows, only a few have survived it.
And that is why Jack is stunned to wake up the next morning. The second thing to shock him is the realization that his fangs are gone. Sunlight touches his face for the first time in a decade. He has a second chance to live. This is a miracle.
Not so fast, Jack. He tries to return to his old life, but the people around him won't let him pretend to be normal when the supernatural is everywhere. His brother is a hunter, the English teacher is a werewolf, and his new girlfriend can suck the souls of werewolves right out of them. Scary, huh? If he was still a vampire, he might be worried.
His brother Billy is now older than him and wants to tell him what to do. This does not sit well with Jack. His vampire friends refuse to leave town without him. They want to turn him into a vampire again. Not going to happen. Not if Jack has any say in the matter. Being a vampire sucked. Sorry. No other word for it.
Every time he starts to feel normal, something happens.
Vampires Rule is an action-packed teen paranormal fantasy with wraiths, vampires, and a faerie. This is the first book in the series.
Other books in the Rule Series include Werewolves Rule, Shifters Rule, Wizards Rule and Mortals Rule (which will be out some time in the year 2015).
Praise for Vampires Rule from bloggers:
"This book is great for Paranormal Junkies…"
-Tabatha at Goodreads
"Kasi Blake is a creative storyteller."
-Kim at Goodreads
"After reading this book, I'm craving for more. I was hesitant that it revolved around a guy main character, but this book definitely pushed away my fears. I loved hearing Jack's thoughts on going from a human to a vampire to a human."
-Black Nailed Reviews
"OMG!!! I so loved this book, I hate that I waited so long to read it."
-MsBdiamond1 at Goodreads
"Vampires Rule took me by surprise. I was not expecting this book to have the awesome story line that it did. Kasi Blake has written a winner with this series."
-I Heart YA Books
Categories for this book also include fantasy, paranormal, supernatural and paranormal romance.