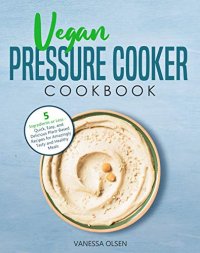 Are you a vegan who?s trying to broaden your recipe collection? This book on pressure cooking is the best way to do it!
Veganism is becoming increasingly popular as society learns more about its benefits, but it can still be hard to find recipes that are healthy, delicious, and easy. This cookbook is the resource you need for information and new recipes that you and your family will love.
You will learn about the history of pressure cooking, and why this fast method is also the healthiest way to preserve food. Essential vegan ingredients like vegetables retain nearly 100% of their nutritional value when they are pressure-cooked, so you can be sure that you?re getting all the vitamins and minerals you need. Both stove-top and electric cookers have their pros and cons, and this book will help you decide which is best for you. You?ll get a walkthrough on how to use the cooker, and how to keep it clean and functional.
The best part of this book is the recipes. They are divided up into chapters like ?Breakfast,? ?Soups, Stews, and Chili?s,? ?Sides and Snacks,? ?Desserts,? and so on. All have just five ingredients or less, including the water you use to bring the cooker to pressure, and include meals like:
Apple-ginger steel-cut oatsSeitan holiday roastsVegan spaghetti + meatballsChinese pasta saladClassic hummusCajun-spiced corn chowderChocolate-orange fondue
Cooking should be fun and hassle-free, and that?s what this vegan pressure cooker book is all about. Whether you are making a simple tofu scramble breakfast or preparing a meal to feed a crowd during the holidays, you can find a recipe in this book that is easy, healthy, and most of all, tasty. Vegan food has a reputation of not being as good as the ?real? thing, but this book proves all those naysayers wrong.