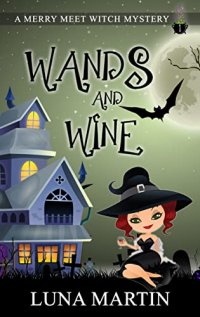 Bargain on 29th Jul 22 - 2nd Aug 22



or borrow free on Kindle Unlimited.
No reviews yet.
Folly Gate has a new witch in town … but broken covens, old family trouble and murder bring unexpected toil.
When Daisy Banks receives an inheritance from her estranged aunt, she has every reason to get into Folly Gate, sell up and get out. But nobody ever seems to leave the small town on the edge of the moors. And when a murder takes place in the wine cellar on the estate of the richest family in Folly Gate, Daisy finds herself swept up into the investigation, alongside her newly acquired wands and her dead aunt's enigmatic cat.
With her best research as a mystery writer behind her, and the unrelenting disapproval of the estate owner, Jenifer Penton, she gets to work with the local Detective Constable to help solve the case.
But Daisy is not the only one with secrets in Folly Gate. When she finds a mysterious book in her aunt's library and family secrets from the dark come to light, will Daisy give up her life in London for some small-town magic? And can Folly Gate hold on to her and save its magical Folly Gate Fair? Or will the centuries' old mysteries of the town remain buried with her aunt?
'Wands and Wine' is the first book in Luna Martin's Paranormal Cozy Mystery Series.
If you like your magic served with a slice of banoffee pie and a cable-knitted blanket, then you'll love her page-turning 'Merry Meet Cozy Witch Mysteries.'
Unlock 'Wands and Wine' to start Luna's exciting new paranormal cozy mystery series, today!
This book is set in a British town and uses British spelling.