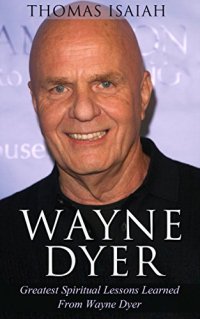 Free on 21st - 25th Dec 15


No reviews yet.
This book appears to be unavailable on Amazon.co.uk at the current time. If this is incorrect, please let us know here
At Last…The Spiritual Lessons Every Seeker Should Know About
If you are looking to learn about the spiritual lessons gained from the wisdom of one of the world's best love teachers then this could be the most important message you have read all day. Here is why:
This book "Greatest Spiritual Lessons Learned From Wayne Dyer" written by Thomas Isaiah was recently commissioned with the challenge of succeeding where other books have, so far, failed.
You see, there is simply no book out there that brings together the spiritual lessons learned from this great master so clearly, so powerfully and in such an easy and entertaining manner.
This is a compact guide, designed in mind for the earnest seeker looking for perhaps the first time into these teachings. The idea of course is simple:
If You Change Your Thoughts, Your Reality Will Change
This may sound too good to be true. Or perhaps it sounds like a scam. Read further into this subject in this captivating and thorough book and perhaps you will change your mind.
Get this book today. Make sure it is the very next thing you do. Why wait while the secrets of your life could start to open up to you. At this reasonable price if you even only get one great idea from this book (and you will likely get many, many more) you will have made a sound investment.
Today only, get this Amazon bestseller for just $0.99. Regularly priced at $4.99. Read on your PC, Mac, smart phone, tablet or Kindle device.
Here Is A Preview Of EXACTLY What You'll Learn…
Learn about the 3 key elements on the path to greatness

Can an orange really be used to explain a great spiritual truth? Find out how in this book

Find out about the key revelations on the path to greatness

…and also discover your infinite self steps to living a life without limit

How aligning with source can lead to limitless power

The 3 daily investments one must make for their spiritual growth

Find out the number one possession that causes a person to be successful

How to harness the power from within

Learn what FEAR really stands for

Let Go and Let God- The 5 most important things a person must let go of

How to love yourself and why it is so important

Discover an important secret to financial abundance

Living With Passion: How people live the life they want to live

The 6 Great Characteristics Of A Dreamer
If you even get just one life changing idea from this book (and it is likely you will get many more) it will be worth the investment many times off. Don't delay, get this book now while on this special offer price.
Scroll Back To The Top To Get This Book On Special Offer Now!