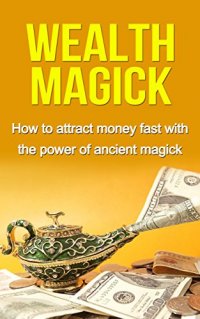 Wealth Magick
Magick has been used for hundreds of years all around the world to achieve love, romance, luck, improved health, and also wealth and prosperity!
This book explains the truth about magick and Wicca, and shows how you too can experience an improved life thanks to magick.
Inside this book, you'll discover how to create and cast spells, the key ingredients for wealth and abundance spells, and also how to create a sacred space to perform your magick!
This book includes a list of spells that you can put to use to create more wealth, abundance, and prosperity in your life. This includes spells for finding a perfect job, becoming a millionaire, and getting more recognition for your work.
Download today and begin creating the wealth and abundance you deserve with the power of magick!
Here Is A Preview Of What You'll Learn About…
The Basics of MagickThe Importance of Belief & Intent in Your MagickHow to Create a Sacred Magick SpaceKey Ingredients for Wealth SpellsHow to Create Abundance OilSpells for Wealth, Abundance, & ProsperityMuch, much more!
Download your copy today!