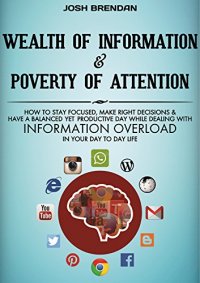 Free on 30th Aug 15 - 3rd Sep 15


No reviews yet.
How to Stay Focused, Make Right Decisions, and Live a Balanced yet Productive Day While Dealing With Information Overload in Your Day to Day Life
You're about to discover…
Existing in an era driven by excessive digital information offers an exhausting daily attempt to keep up with what's new, what's next, and what we have at present. It can get very tiring. It can get very frustrating. In fact, it can lead to a more significant set of behavioral and social problems that may escalate one day after the other.
Here Is A Preview of What You'll Learn…
What is Information Overload and how does it affect our productivity How to avoid the analysis paralysis How to rediscover the fundamentals of livingUnderstanding how brain works and how to boost up it's powerHow to refocus, reprocess and reorganize your thoughts.Much, much

more!
Download your copy today!
Tags: (Wealth of Information, Attention deficiency, How brain works, Organizing information, Productivity, Information Overload, Being effective and efficient)