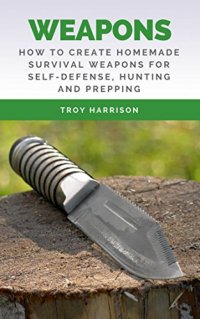 Free on 29th Mar 17 - 2nd Apr 17


No reviews yet.
LEARN HOW TO CREATE HOMEMADE WEAPONS FROM SCRATCH TODAY!
What would you do if you ever found yourself in a SHTF scenario without your firearm? Riots, burgalries, terrorist attacks, confiscation of firearms, war…
What if you had to live in the woods for a while, but you had no tools for hunting game? What would you do?
In my book How To Create Homemade Survial Weapons For Self-Defense, Hunting and Prepping I will teach you step by step, exactly how to create 15+ different DIY survival weapons, that you can use for self-defence and hunting.
No experience is required. If you can follow instructions, you can create your own weapons too…
In this book, you will learn how to create the following weapons:
Hunting knife
Bow & arrow
Homemade pepper spray
Slingshot
Blowgun
Weighted club
Kubotan
Homemade taser
+ 9 more weapons!
+ FREE BONUS
Frequently Asked Questions
Is it legal?
Yes – having a book about how to create homemade weapons is fully legal. It is just information. However, you should always check your local country and state laws about the legalities of actually creating the weapons and using them.
Do I need woodworking experience?
No experience is required, but it won't hurt. I will walk you through what you need to do step by step.
Are you ready to create your first weapon today?
Press the "BUY NOW" button and download your copy today and buy the paperback version, so you have the book ready once SHTF!
Tags: Survival, prepper, preppers, emergency, homemade tools, prepping, defense, survivalist, bush craft, disaster, DIY weapons tools, b.o.b, bag out bag