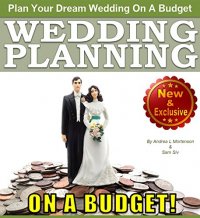 Free on 27th May 17



or borrow free on Kindle Unlimited.
No reviews yet.
★★★Wedding Planning on a Budget: The Ultimate Wedding Planner and Wedding Organizer to Help Plan Your Dream Wedding on a Budget★★★
Plan the perfect wedding without emptying your bank account!
Do you want a dream wedding but have a limited budget?

Are you willing to think outside of the box in order to have your wedding?

Can you think creatively in order to achieve your dream wedding?
If you answered yes to any of these questions, then this is the ultimate book for you. This book will guide you step-by-step in order to achieve your dream wedding on a budget.
Planning a wedding can be an exhausting experience. It can be very expensive too. You might find yourself overwhelmed by all the things that you have to do! It is important for you to get all the help you can get in planning your big day. What are the latest wedding ceremony trends? What are the things that you need to plan? How will you start organizing the most memorable day of your life? The answers you are looking for are in this book! It has everything you need to plan the details of your perfect wedding day on a very friendly

budget.
Review
The ultimate guide to wedding planning on a budget

By Christie davis
"Sam Siv is the master at writing wedding guides that inform, instruct and help make your day extra special. This book is no different.
In Wedding Planning on a Budget, Sam shows you how to have the wedding of your dreams on a budget. This book guides you step by step through everything including picking your date, invitations, wedding attire, venue, decorations and so much more. There is even a section on how to honeymoon on a budget.
I highly recommend this book to everyone who is planning, or helping to plan, a wedding."
In this detailed book, you will learn everything you need to know for a perfect wedding from start to finish.
✔How to get everyone involved to produce a wedding where everyone's talents are used.

✔Establishing a guest list that won't break the budget.

✔Picking the date of your wedding can be the difference in several thousand dollars. How to pick the best date for your needs and budget are discussed in this book.

✔How to pick a theme with style without blowing your budget is key to holding a successful wedding.

✔Invitations are important. This guide will show you how to pick invites for your style, budget and needs.

✔Brides want to look their best on the wedding day. So the perfect outfit is key. But don't forget the groom. Choosing a budget friendly outfit for him is also important.

✔A venue can make or break a wedding. This guide will assist you in making the right decision in this important area.

✔Decorations, flowers, food and Catering can blow a budget all out of proportion. With the help of this guide, learn the steps necessary to keep these important items in check.

✔Wedding sweets and the elements that involve the cake are also discussed in this helpful book.

✔Wedding favors and other wedding elements play an important part of your special day. Learn how to do them right without breaking the bank.

✔Don't forget about making the guests feel special on your day. This book will show you how.

✔Honeymooning on a budget can be difficult but this book will show you how to do it and how to do it right.
This book will guide you the whole way and show you how to enjoy your day, get the most out of your budget and have a day to remember for the rest of your life.
Congratulations on your upcoming wedding and here's to helping you along the way.
Download Today!