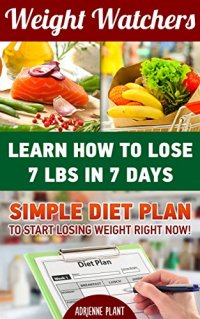 Free on 30th Dec 15


No reviews yet.
Also Available as:
Print Edition

This book appears to be unavailable on Amazon.co.uk at the current time. If this is incorrect, please let us know here
Getting Your FREE Bonus
Download this book, read it to the end and see "BONUS: Your FREE Gift" chapter after the conclusion.
Weight Watchers (FREE Bonus Included)

Learn How to Lose 7 Pounds in 7 Days. Simple Diet Plan to Start Losing Weight Right Now!
Do you have a little bit of weight to lose? Do you have a lot of weight to lose? Are you just trying to jump start a routine, or are you trying to lose a few pounds for that bridal shower or pool party next week?
Whatever your reason may be, it is no secret that there are a lot of us out there who want to lose a few pounds fast. Who has time to sweat it out in the gym for minimal pay off? Not you!
You have places to go and people there to see, and that doesn't mean that you can spend hours in the gym getting ready for them, you need results and you need them right now!
So what are you to do? It isn't as though you have a lot of money to go spend on a fancy diet regime, and you certainly don't have time for the gym, but that doesn't help the fact that deadline is coming up faster than you can keep up with.
Don't worry, you have landed in the right spot. This book is going to help you not only jump start a healthier life, but to also drop 7 pounds in 7 days. You can almost watch the weight melt off of you!
Using delicious foods that are low in calories but high in nutrients, and a lot of tips for a healthy lifestyle that are going to help you shed pounds immediately, this book has everything you need!
Including:
Weight loss tips

Recipes

Diet suggestions

Easy exercises

And more!
You will be amazed at how much weight you can lose in a week, and you will be encouraged to know that it is easy enough that you will be able to stick with it even when your week is passed!
Download your E book "Weight Watchers: Learn How to Lose 7 Pounds in 7 Days. Simple Diet Plan to Start Losing Weight Right Now!" by scrolling up and clicking "Buy Now with 1-Click" button!
Tags: slow cooking for one, slow cooking for two, cooking for two, low calorie cookbook, low calorie, low calorie diet, low calorie recipes, low calorie meals, low calorie slow cooker cookbook, low calorie cooking, low calorie foods, weight watchers cookbook, weight watchers recipes, weight watchers diet plan, one pot meals, one pot cookbook, one pot recipes, one pot meals for two, one pot dinners, cooking for one, cooking for two cookbook, coking for 1, cooking for one cookbook, recipes for one, skillet cookbook, skillet recipes, skillet meals, skillet dinners, slow cooker, slow cooker recipes, slow cooker cookbook, slow cooker diet, slow cooker weight watchers cookbook