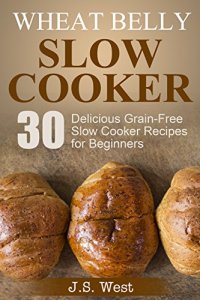 Free on 1st - 5th Mar 15


No reviews yet.
This book appears to be unavailable on Amazon.co.uk at the current time. If this is incorrect, please let us know here
After reading this book you will learn all about wheat belly slow cooker diet and lifestyle
The Health and Wellness Benefits Will Be Incredible!
SPECIAL OFFER – OVER 70% DISCOUNT

LIMITED TIME ONLY $2.99! (Regularly priced: $6.99)
Ever heard of wheat belly? Whether you are new to the concept of wheat belly or if you are an old hat when it comes to avoiding wheat in your diet, this book will provide you with thirty delicious new and exciting recipes that you can try out on your weight loss program.

The first chapter of this book will provide you a very brief outline of what wheat belly is, what it is not, and what you can and cannot eat when you follow this dieting plan. Wheat belly is a great way to lose weight, but it is important to understand what the diet entails before you get started. If you are already on a wheat belly diet, chances are this information is not news to you, but it may be nice to refresh yourself anyhow!

The following three chapters are comprised of recipes—ten Chicken & Turkey recipes, ten Pork & Lamb recipes, and ten Beef recipes. These pages will provide you with plenty of delicious meal options to help get you thinking creatively about what you can and should eat on your wheat belly dieting program! After reading this book, you will be well equipped to start cooking immediately.

Even if you are a beginner to cooking, these recipes have been created with you in mind! They are very simple, require very little prep time, and all of the steps have been outlined in a very simple and easy to understand way. The ingredients are easy to find at your local market, and by following the steps outlined in each of the recipes, you'll be creating amazing dinners in no time with the help of your slow cooker.

The last chapter of this book provides a week-long meal plan and accompanying daily shopping lists to help you get started on wheat belly slow cooking. Feel free to follow this plan exactly, or to modify it as you see fit!
This is A Preview Of What You'll Learn…
what what belly is30 delicious recipesamazing recipesa week-long meal plan and shopping listand much, much more!
Would You Like To Know More?

Download your copy today!

Take action NOW and download "Wheat Belly Slow Cooker: 30 Delicious Grain-Free Slow Cooker Recipes for Beginners" for a limited time discount of only $2.99!
Available on PC, Mac, smart phone, tablet or Kindle device.

© 2014 All Rights Reserved
Tags: paleo kitchen, paleo, paleo weight loss, paleo diet, low carb, paleo low carb diet, paleo cookbook, paleo recipe book, paleo slow cooker, paleo diet cookbook, paleo low carb, paleo mediterranean recipes, paleo mediterranean cookbook, paleo for beginners, beginners paleo recipes, paleo style, paleo lifestyle, paleo approach, paleo living, paleo life, paleo, free kindle book paleo, paleo slow cooker, paleo diet for beginners, paleo diet free kindle books, paleo diet food list, paleo diet for athletes, paleo approach, paleo for weight loss, paleo diet for weigh loss, paleo diet free books, Atkins Diet, Low Carb, Paleo Diet, Paleo, Wheat Belly, Slow Cooker, William Davis