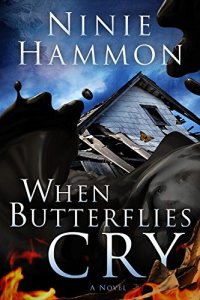 Free on 26th - 30th Dec 15



or borrow free on Kindle Unlimited.
No reviews yet.
What could possibly be sad enough to make butterflies cry?
A soldier returns to find his wife in his brother's arms. And that's not even the worst thing he's come home to.

And just so you know going in–that dam holding back a 300-million-gallon lake on the mountainside above the little coal camp town of Saddler Hollow–that dam's going to blow.
Grayson Addington comes home to Saddler Hollow, West Virginia, from Vietnam a broken man, ravaged by post traumatic stress syndrome, a chaplain who left his faith in the jungle mud with his massacred unit. His wife, Piper, doesn't know her husband anymore. In his absence, she turned to his brother Carter for support. Now, she must choose between them–and Carter will stop at nothing to have her.
And into this family torn apart by jealousy, deceit and clan loyalties comes a mysterious little girl. Maggie, a battered child with amnesia, shows up on the Addington's front porch and instantly bonds to Sadie, Piper and Grayson's cripplingly shy toddler. When Maggie runs away and takes Sadie with her, the warring brothers must team up to search for them.
But something more than chance has brought the child called Maggie to this wounded family. And nothing less than destiny will be fulfilled by her incredible act of love–on the foggy morning when the coal slag dam at the top of the hollow explodes.
Interview with the author:
Q. What's so special about When Butterflies Cry?
A. It's real life on paper. It's been a Kindle bestseller because the characters in the novel come to life on the page–like the family next door in a small town. The story is gripping, the action nail-biting.
Q. Is this a Christian book?
A. There's no religion in it. But there is spirituality–themes of love and sacrifice that touch the soul of readers of any faith–or no faith at all.
Q. Why should readers give this book a try?
A. Because it's a book that will break your heart, and then put it back together again.
Goodreads and Amazon Reader Reviews
Wow. I have found a new favourite author. She is so good and I've been burned a lot lately by really bad free books, written poorly and full of mistakes. This is the kind of contemporary women's fiction I want but usually don't find in a free book. A (no spoilers) sacrifice makes the book inspirational, but its filled with suspense too. Even though its during the 60's or 70s war in Vietnam, the story itself felt timeless and contemporary and so real I forgot it was fiction and it kept me in suspense way past my bedtime to find out what happened. Sarah Bridges
I'm a city girl and I never thought my heart would break over a story about a small town in West Virginia. Not what I expected from a typical paranormal thriller–its a mystery with lots of suspense, like other reviewers said, it was unique. But it is during the Viet Nam war times, and not contemporary fiction like it said. You should read it, but have lots of tissues handy. It was inspirational to me how the chaplain kept hanging on and "doin' the necessary" and then got home and found his brother with his wife–but I won't spoil the suspense. I think the mystery about the butterflies landing on her was she was paranormal. Cassandra
*Amazon tags: psychological thriller, psychic suspense, psychic thriller, small town secrets, contemporary religious fiction, inspirational suspense, inspirational thriller*