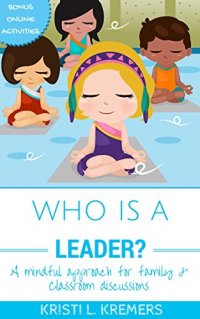 Who Is A Leader?: A mindful approach for family & classroom discussions
"Who Is A Leader?" is a first of its kind children's book on leadership. A traditional children's picture book is coupled with family & classroom discussion guides and activities to promote mindfulness and leadership at home and in the world. The book showcases the leadership styles of Dr. Martin Luther King, Jr., Oprah Winfrey, Mother Teresa and Dr. Neil deGrasse Tyson.
If you were challenged to explain who a leader is, what would you say? Could you explain it so well that a child would understand in a moment, but an adult would need more time to think?
This little book is a storybook for children and a book of wisdom for adults. It is a description of a leader, someone who has a mindful vision that others do not yet see – someone who opens the eyes of those same people to see past the limited horizon of their experience into the boundless realm of dreams. Through images and simple words, the author captures the essence of what a leader is. She nurtures a fresh and fulfilling hope for those who have leadership responsibilities but have forgotten what a leader really is.
In Who Is A Leader?: A mindful approach for family & classroom discussions you will understand and even experience…
The inner and outer expressions of a leader's natureThe true source of a leader's sense of directionHow leaders invest in themselves and those who surround themWhat a leader creates among those who followHow a leader responds to the successes and failures of othersThe common roles in which a leader can functionThe crucial moment when you too become a leader.This disarming little book concludes with profiles of three great leaders and discussion questions that apply the example of these lives to our own. It also presents many questions for discussion among adult family members, discussion between parents and children, and for use in the classroom. The author has an academic background, but has produced a book of profound simplicity and heart-felt vision.
Act Now! Click that orange BUY button at the top of this page.
Then, you can immediately begin reading and sharing the truth of Who Is A Leader?: A mindful approach for family & classroom discussions on your Kindle device, tablet, or smartphone.