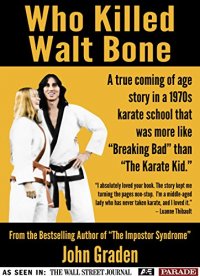 Free on 11th Dec 15



or borrow free on Kindle Unlimited.
No reviews yet.
Who Killed Walt Bone"I absolutely loved your book. The story kept me "turning the pages" non-stop. It was interesting, enlightening, amazing, scary, and funny. I'm a middle-aged lady who has never taken karate, and I loved it.

— Luanne Thibault
Book Description
"Who Killed Walt Bone" is a wild coming of age story of John Graden in a karate school that was more "Breaking Bad" than "The Karate Kid."
In the mid-1970s, the "Kung Fu" TV series was number one, "Kung Fu Fighting" was the number one song, and Bruce Lee was tops at the box office with "Enter the Dragon."
The martial arts portrayed in these programs always seemed to attach an element of enlightenment to the entertainment of eye gouging, neck cracking, low blow battles.
The high-kicking heroes all had a grand master to teach them, guide them, and keep them humble. This wise old master was part of the martial arts package.
Like millions of other teens, this combination of thought provoking wisdom and nut-busting techniques inspired John Graden to join the local karate school.
He idolized his deadly black belt instructors only to discover that they were involved in drugs, perverted sex, and even murder.
Great stories include:

What happened when Joe Lewis accused Bruce Lee of hitting on his wife.

What major martial arts figure was a secret CIA contractor?

Who killed karate star Walt Bone.

Many more entertaining stories…
"Simply a riveting read from the start and all the way through. Not just a book for Martial Artists but anyone interested in a good story."

— Dan Maglietta
Contributors
Jim Graden

Mark Graden

Pastor Don Sturiano

Mark Dees

Dan Austen

Dr. Scott Reis

Rick Cogar

Mike Anderson

Ken Kladnik

David Keating
Author Biography
John Graden is a bestselling author and inductee into the Self-Publishing Hall of Fame. A protege of the late Joe Lewis is a world champion kick boxer, respected teacher and known as the Teacher of Teachers in the martial arts world. He has been profiled and appeared on many media platforms including the Dr. Oz Show, The Wall Street Journal, and Publishers Weekly.
Stories about
Bruce Lee

Linda Lee Caldwell

Brandon Lee

Shannon Lee

Chuck Norris

Demetrius "The Greek" Havanas

Joe Lewis

Walt Bone

Debbie Bone

Mike Anderson

Ray McCallum

Herbie Thompson

Joe Corley

Hidy Ochai

Jhoon Rhee