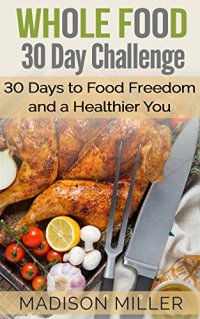 Challenge yourself with better eating habits for 30 days! Give the Whole Food 30-day Challenge a try and regain your health and freedom from foods that can sabotage your well-being.
Download FREE with Kindle Unlimited!
Eliminating all foods that can harm your health from your diet is the best gift you can give yourself. Not only will you improve your health in general but also lose some weight, feel energized, boost metabolism, focus better, gain radiant skin, eliminate digestive problems, and much more.
If you are interested in changing your life and taking charge of your health, then the Whole Food 30 diet is perfect for you. It is a dietary plan that is designed to eliminate many of the foods that could be causing health issues such as slow metabolism, acne, diabetes, and even heart disease and cancer. In the process, it will change the way you think and feel about food. What you feed your body matters, and you need a solid plan for resetting and reprogramming your metabolism and your health.
The Whole Food 30 Day Challenge can help you do all of this, and make the journey delicious and exciting. It contains a complete 30-day meal plan, along with a recipe for every dish. If you have been wanting to devote 30 days to your heath, but have been unsure how to start, this cookbook will take away all of the guesswork and provide you with unbelievably tasty, healthy, Whole 30-compliant dishes that will not only change your attitude toward food, but will also change the way you prepare the meals you nourish your body with.
To succeed on the 30-day Whole food challenge, you need a plan, and this book provides just that: a plan that guarantees delicious victory
Inside, you?ll find:
?An introduction to the Whole Food 30 Day Challenge including the rules to follow, the health benefits, some frequently asked questions, and why you should do it.
?Keys to success with concrete tips to make your Whole food eating challenge easier.
?A 30-day meal plan with a different recipe for each meal for the whole 30-day challenge!
?30 delicious breakfast recipes such as the Chili Lime Chicken Omelet, the Curried Mushroom Scramble, and the Creamy Sausage Salad.
?30 tasty lunch recipes like the Hawaiian Pineapple Burgers, the Roasted Kale Salad with Spiced Pears and the Italian Sirloin Skewers.
?30 delightful dinner recipes like the Spicy Stuffed Peppers with Guacamole Salad, the Rustic Meatballs with Stone Fruit Greens and the No Fuss Sheet-Pan Chicken.
?Amazing snack recipes such as the Zucchini Chips and the Sticky Blueberry Energy Nuggets.
?Simple natural treats such as the Frozen Banana Berry Cream and the Tropical Mint Popsicles.
What are you waiting for, let get started now!
Read on your favorite devices such as Kindle, IPhone, IPad, Android cellular phone, tablet, laptop, or computer with Amazon's free reading Kindle App.
Scroll back up and click the BUY NOW button at the top right side of this page for an immediate download!