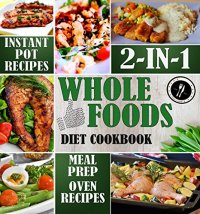 Free on 14th Apr 18



or borrow free on Kindle Unlimited.
No reviews yet.
Are you tired of coming back home at the end of the day and then having to cook?
Are you searching for a healthy way to lose your extra weight and never gain it back?
Well, you don't need to search anymore! Instant Pot cooking is the fast way to prepare all the meals your family loves. And you will learn simple strategies for achieving your diet goals, saving time and money from the healthy meal prep cookbook. Healthy nutrition doesn't have to be complicated. Change your life today and start eating whole foods that have more nutrients and less harmful chemicals.
Building good habits and planning ahead are the keys to success when it comes to eating healthy. This 2-in-1 Whole Foods Diet Cookbook includes things like:
Healthy Pizza
Creamy Mushroom Risotto
Roasted Salmon with Potatoes and Cauliflowers
Italian Chicken Bowls
Shrimp Bisque
Beef Stroganoff
Delicious Lentils Salad
And many, many more…
Do you want to cook delicious and healthy foods at home – without spending too much time in the kitchen?
Get your copy today and start cooking Whole Foods breakfasts, lunches, dinners, and snacks! Your waistline will thank you!
WARNING: this is not Whole 30 diet cookbook. Though many recipes from this book could be Whole30-compliant, others are not. Still, you will find a bunch of great recipes here, whether you're doing Whole 30 or not.