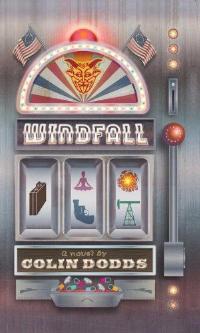 Free on 29th May 20 - 2nd Jun 20


No reviews yet.
To all appearances, Seth Tatton is a middle-of-the-pack attorney just keeping his head above water. But he has a side job, working for a shadowy cabal of politicians, billionaires and military leaders. With each assignment, he learns more about their plot and, and grows more intrigued.
Even in Seth's secret life, things are not what they seem. There's something inside of him. And it has big plans for him, plans that it and others like it have nursed for centuries. But when Seth is assigned to watch a troubled young woman, all of those plans fall into question.
A story of the second American civil war, alternative energy and demonic possession, WINDFALL is part political thriller and part paranormal epic.
A semi-finalist for the 2013 Horatio Nelson Fiction Prize, WINDFALL is the latest novel from Pushcart-Prize nominated poet, and author of The Last Bad Job and Another Broken Wizard, Colin Dodds.
"Colin Dodds is an American author of note – and one whose novels continue to reveal that he is likely to become one of our premiere writers. WINDFALL, while a mesmerizingly fascinating and addictive story, steps beyond the usual campfire-cum-barbershop tales spread around town or discussed in literary circles… (I) encourage those whose hunger for the new in writing will be stimulated to become submerged in this very contemporary landfall of a book. Colin Dodds has arrived."

-Grady Harp, Literary Aficionado
"WINDFALL is not your typical political thriller. Dodds deftly weaves in a solid paranormal thread that explores ambition, myth and morality in an indifferent America without resorting to pulpit thumping or cardboard villains."

-The New Podler Review of Books
"Smart people compliment the smart and direct narrative in a way that keeps a reader… eager to turn the page to discover the next big move from these compelling leads… (WINDFALL) could easily stand up against the more famous works of the genre."

-Rabid Readers Reviews