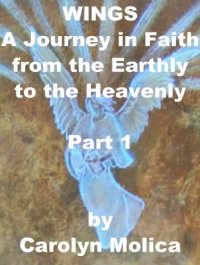 Free on 29th Jul 18



or borrow free on Kindle Unlimited.
No reviews yet.
WINGS: A Journey in Faith from the Earthly to the Heavenly is a compilation of stories—thoughts, musing, insights, revelations and guidance gathered from my experiences living as a Christian in Las Vegas.
The truths I find are not unique to Las Vegas; they're just magnified here. We live in the middle of a desert. Survival here, whether in Red Rock Canyon or the casinos, is dependent upon preparedness, insight and wisdom. Learn quickly or die. Soar high or get crushed under foot.
I've put together this book to use as a workbook. There are 52 chapters, one for each week of the year, and separate chapters for special holidays. This section is PART 1 and contains chapters 1-9:
1. FILLING VACANCY WITH JOY
2. CAN'T STOMACH IT? LET IT GO
3. JESUS GETS TO THE ROOTS
4. WHAT'S IN A NAME?
5. INFORMATION OR REVELATION
6. TIRED OF WAITING FOR ANSWERS?
7. NO MORE TOIL
8. MONEY – TRUTH VERSUS TRADITION
9. GOD LIKES TOO MUCH
Reading each chapter will give insight into the spiritual forces behind everyday decisions and explore the key ingredients for empowerment. Answering the questions at the end of each chapter will help you to locate where you are on your spiritual journey and to make action plans for going further and higher.