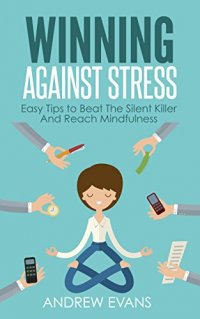 Fed up with anxiety, stress, worry and fears?
This new book is exactly what you need!
Say goodbye to stress today with easy guidance from Best Selling Author and Success Coach, Andrew Evans!
We are always afraid of the unknown and while stress is a widely used notion, it still pops out of the blue and gets us every time. That is why we decided to dedicate our third book in the Shortcut to Success series to Stress. It's well known that stress is an everyday occurrence in modern life and the key to successful dealing with it lies in understanding how it works, why it gets to us and what positive and motivational aspects we can gain through it.
The Best Selling Author, Andrew Evans, is excited to present his brand new book which will forever change the way you see and understand stress. Clear and simple advise on stress management.
Go back to the advice sections, re-read them, let the ideas settle in your mind.
For those of you who don't have time for the whole book, wants to go to the main points immediately or simply feel like they forgot something, for quick recap go to small sections called 'Solutions Snapshot' at the end of each chapter, that summarize key points and give you the gist of the chapter.
This book sets the light mood and prompts you some easy to follow steps to get you moving in the right direction where stress management is concerned.
Inside this book you'll also find a FREE BONUS – some useful mandala coloring pages which will help you chill and get your breathing back under control in a creative and fun way.
In this book you will learn:
how to differentiate stress
how to get motivated by the "good" stress
how to face and curb your stressors
how to nip your stress in the bud
how to take back control and stay the course
Don't hesitate!
Set yourself free from stress with this amazing book!