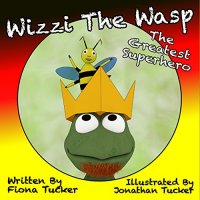 Bargain on 2nd Nov 18



or borrow free on Kindle Unlimited.
No reviews yet.
Also Available as:
Print Edition

In the middle of the wood By the rushing waterfall,
Lives a Superhero, The greatest of them all.
He's an unexpected hero By the name of Wizzi Wasp.
A Wasp you gasp!
It's no mistake.
For he saved the King of Bullfrogs from a terrible fate.
and so begins that story of Wizzi the Wasp. In his first illustrated children's story, find out how Wizzi uses his unique talents to save Buster, the King of the Bullfrogs from a slimy future.
A delightful rhyming bedtime story for parents and children alike. Find out what occurs to make Wizzi become a hero in the eyes of a King.