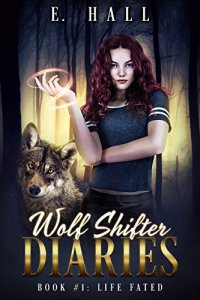 Dear Diary, I?ve fallen in love with the wolf shifter hunting me. Love, Kenna

For graduation, my mom sends me on a trip to Concordia?a European country I?ve never heard of. Apparently, my father lives there…along with werewolves, vampires, and other monsters. Yes, it?s terrifying, but it turns out I?m not that much different. Exactly what I am is another question entirely. What I do know is that I?ve fallen for the leader of the wolf shifter pack. Too bad he hates me.
Corbin is a guardian of the former monsters in Concordia. When the Klave, a fringe group, threatens to break the magical bonds that keep humans safe from them, it?s up to him to stop the sinister plot. The only problem is, he needs my help. However, I?m his fated mate. If he falls in love, he loses his position. The only solution is to hunt me down or risk losing all he?s worked hard to create for his pack.
It?s not safe for Kenna, but with the discovery of her power and connection to Corbin, the world isn?t safe from her.
This is book 1 of 4 in the Sweet Paranormal Wolf & Fae Fantasy Romance Series. It?s romantic fantasy perfect for readers on Team Jacob and fans of K.M. Shea, Stephanie Meyer, and Emma Wolfe. This slow burn, fated mates, enemies to lovers romance hits the swoony spots and takes the characters beyond their borders on a quest to save the world from monsters, including themselves.