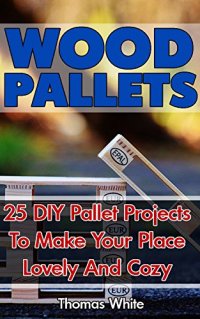 Free on 1st Jul 17



or borrow free on Kindle Unlimited.
No reviews yet.
Getting Your FREE Bonus
Download this book, read it to the end and see "BONUS: Your FREE Gift" chapter after the conclusion.
Wood Pallets:(FREE Bonus Included)
25 DIY Pallet Projects To Make Your Lovely Home Cozy
When we think of pallets, we often think of those awkward, square planks that are used for storage. Often we think of them as cheap and unsightly, only there to serve a purpose without any real beauty.
Then, when we don't need them anymore, we wonder how to easily get rid of them so we don't have to have them sitting around on our property, taking up space and looking cluttered. But this isn't what the life of a pallet needs to be.
There are all kinds of options when it comes to pallets and how to use them, you don't have to think of them as storage stands or something that is only taking up space. If you have old pallets lying around, you have countless projects right at your fingertips. Whether you want to make something artistic, something functional, or something for the kids, you have all that you need right in front of you.
And that is what this book is going to show you how to do. In this book you will find 25 different projects for your pallets, and a plethora of different things you can do with them. These are things that are artistic, fun, and easy to do so anyone of any skill level can do them.
Whether you are an art lover, a lover of old things, or just enjoy upcycling, this is the book for you.
Discover all kinds of different projects you can make out of pallets, with few items
Make items you can use, and use the items you make for all kinds of projects
Don't let anything go to waste… you can use pallets in just about any way you can think of
Have fun and add your own personal touch to all of these items, making memories right along with the projects
And more!
Download your E book " Wood Pallets: 25 DIY Pallet Projects To Make Your Lovely Home Cozy " by scrolling up and clicking "Buy Now with 1-Click" button!