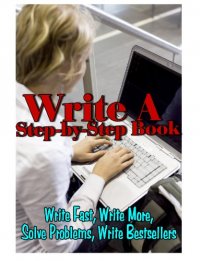 The Easiest And Fastest Way to Get Your Book Finished and Selling

Learn to write books the fast and easy way. Step-by-step books are the ones that people are really looking for, they have problems that need to be solved. Step-by-step books can solve those problems and break down instructions so that anyone can understand and follow them.

Write the Kind of Book That Will Really Hit Home With Readers
Think about the books that you have read. Which books make your list of all-time favorites? There will certainly be those that you loved for their entertainment value, but what about those that you read because you needed the information. Weren't the manuals, the guides, and the worksheets the most valuable of books that you picked up? Those were the books with specific and actionable instructions.

Never Write Another Book That Doesn't Sell
As an author, there is also the worry of writing books that don't sell. This book teaches you the basics of where and how to research your book in lightening time, then how to analyze whether you book has a chance at selling a decent number of copies per month.

Get the Checklist That Will Keep You On Track
You can count on this book to give you a perfect checklist for writing your book, and a schedule outline that will show you how to break down the production of your book into manageable steps over a reasonable amount of time for producing multiple books to put out as your own personal catalogue of assets that will bring in streams of income each and every month.

Become a Better Writer, Write Faster, Write More
You will become a better writer, and a better organizer so that you can truly become a book factory. You will learn how to make those books with the kind of quality that is expected of a professional writer, and with your own style and voice, so that you can attract your own personal fan base.

Become the Author, Publisher, Entrepreneur of your dreams, and realize that you can get there faster with focused one problem, one solution, step-by-step books. Learn how to leverage what you already know, and build on that knowledge in the most creative ways. Let the author within you loose and see what your potential can really be.

The Book is Getting Great Reviews:
This Book Rocks
"This book rocks! It is a wealth of information if you are looking to write a book from scratch and have it published. The author covers everything from picking topics of interest and research, to structuring a book, promoting a book, creating the cover, title, description and so much more. I am keeping this book as a reference guide. Thumbs up on this one! Get it! "

I Recommend This Book
"I love this book. I've had a book in the back of my mind forever, but just kept putting it off. I followed the author's instructions step by step and finally got this book written and published within 2 weeks. This book will be on my Kindle for PC forever.
I thought the best part was the section on how to research your topic. Now I know exactly what to do before I even consider putting pen to paper. There is more info here than I received from Kindle courses that I've paid a premium fee for.
I also keep the wonderful checklist the author so kindly provided on my desktop for easy daily reference. This way I can check my progress every day and see where I'm falling behind or when I'm slacking off.
I recommend this book to every would-be writer and every currently publishing author out there. Your productivity will definitely improve if you follow the author's guidelines. You really will find yourself writing fast, writing more and achieving success as an author and publisher."

I Loved The Simplicity
"I loved the simplicity and the practical nature of this book. Having bought Kindle courses and programs from "gurus" I feel I am qualified to give a review. This book is a practical step by step guide how to write a non fiction book."