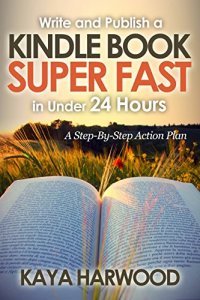 Free on 3rd - 6th Jul 16



or borrow free on Kindle Unlimited.
No reviews yet.
A Complete Blueprint for Producing High Quality Books, FAST

Have you ever wanted to earn a significant income from Kindle Books? Or perhaps you just want to get a book onto the Kindle Store but never managed to get there.

Or maybe you've already done all that but have no idea how to get more sales and customers.
I'll let you in on the secret to success right here. Write more books, of high quality, as fast as you can!
The Recipe To Success
This book will give you a clear hour by hour, minute by minute, step-by-step action plan that walks you by the hand to write and publish a book to the Kindle Store, entirely from scratch.
This book will teach you how to achieve every process from getting ideas for your book, researching the potential profitability of your book, carrying out research to get good book content, all the way up to writing it, editing, formatting, publishing and marketing your book.
Every step is provided in order to make your journey as smooth and as efficient as possible, in very practical steps.
Your output will be a book of the highest quality, produced just shy of 24 hours!
Tailored to both Nonfiction AND Fiction
The book caters to nonfiction and fiction authors, however the less-than-24 hour timeframe is specific to nonfiction. But this book is perfect for fiction authors as well! You will be able to release your book in just 3 days with this same plan! The book shows you how to adjust the timeframe to suit any book, your preferred pace, fiction or nonfiction.
The book strongly supports both nonfiction and fiction publishers, so in chapters where nonfiction and fiction processes are different, the book will say: Nonfiction authors do this. Fiction authors do this.
Build a Nice Passive Income Stream
The recipe to write a successful and profitable book is right here! I have not seen any other book like this on the Kindle Store with such a clear and concise method of execution, so I want to share this method with you.
If you want to build a successful Kindle Publishing business and earn money fast, you will want this book. If you just want to write one book and do it fast, you will also want this book.
You will not need to spend any money, but if you want to produce a professional book I will show you how to do this with just $5 USD.
Even if you don't write books yourself, this plan can still work for you with a simple adjustment.
But if you are a writer like me… I will show you how to research, organise your notes and write super fast.
So are you ready to write and publish lots of books and earn yourself a passive income stream? Perhaps you want to work from home or just make money online?
Well, what are you waiting for, don't waste valuable time!
Let's jump right in!