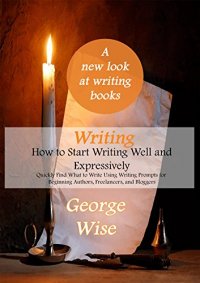 This is a guide for those who are passionate about the art of words and yearn to make their writing more creative.
Anyone can write a story, but this book will show you how to bring that story to life with colors, smells and sounds.
It will give written practice to beginners and will help to write to well experienced authors, bloggers and freelancers. The book is filled with creative writing prompts and exercises for writing. It will improve writing simply and quickly. It will give common core writing , teach an expressive letter, tell how to write stories, descriptive writing and scientific writing.
Read on to learn:
o             The importance of reading.
o             What are POVs about, and which one is best for your content?
o             How to enhance your descriptive writing.
o             What do you need to consider when creating a plot?
o             Who is your target audience?
o             How do you publish your writing to make it available to the many readers out there?
To help you improve your existing writing skills we have set seven short writing exercises. Each one was developed to guide you through the art of putting pen to paper and creating words.
You don't even need a computer. Just a pencil, paper and an open mind is all you need  to become a creative writer.