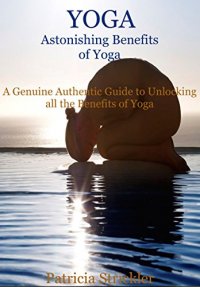 Free on 22nd Dec 16



or borrow free on Kindle Unlimited.
No reviews yet.
This is a short (33 page) intro book to the different yoga programs and the benefits of yoga and also to my series of yoga books coming soon.
Yoga, in its many forms, originated 10,000 years ago, and is practiced by millions of people, all over the world, to this day. Yoga is not only calming and a form of exercise, but it has many other health benefits as well!
Practicing yoga provides many benefits of both instant and lasting. Are you someone who has tried too many different methods with too few results so you dropped out? Do you do the same old boring, monotonous routines day after day, week after week? This can leave you feeling stagnated.
Yoga allows you to not only change physically and mentally very quickly; it also helps to prepare your mind/body for long-term health.
There are no age barriers if you want to practice yoga. Anyone from any generation and fitness level can participate. Unlike a gym, where you can feel anxious and uptight when you see others who are more advanced or much more buff than you, yoga allows everyone to feel accepted and included.
It would not be unusual to see anyone from the teenage years, moms, dads, older citizens or even those who are fitness buffs or body builders? No matter where you come from, yoga can help anyone and everyone.
If you like going to the gym, go ahead and work out that body. Yoga, on the other hand, is about a healthy overall lifestyle. Yoga calms you down in a world of chaos. When everything else around you is chaotic, you can achieve peace and tranquility by participating in yoga classes.
Yoga is about overall health and wellness and helps you relieve the stresses in your life. With yoga, you can unclutter your mind, breathe deep, meditate and allow yourself to get everything off your mind such as your kids and spouses needs, your finances, etc.
Some of the benefits of yoga are that you can choose a style that is right for you and your lifestyle:
* Power yoga
* Relaxation yoga
* Hot yoga
* Prenatal yoga
And, you don't have to go anywhere to practice yoga. Stay at home, purchase private sessions, watch a DVD, go to a studio or gym or choose whatever you are comfortable with doing.
If you are just beginning, try Hatha yoga. Hatha yoga can be accomplished at a comfortable pace and includes basic postures. Power yoga is for those who are ready for the next level and want to increase strength by using more of your own body's resistance.
For those of you who really want to ramp it up and want a deeper yoga practice, hot yoga (Advanced/Bikram) might be for you. Be sure to check with your doctor before you start this type of yoga because it requires that the room be around 100 degrees Fahrenheit. This high temperature results in better chances of you eliminating toxins from your body via sweat.
Because yoga focuses on flexibility and strength training, there are incredible benefits to your body. Yoga postures have the benefit of strengthening your body from the inside out because the poses are meant to reinforce the muscles around the spine, which we all know, is the center of your body. Everything in your body revolves around the spine so it is important to make sure it is properly cared for.
Yoga, overall, helps you to become more aware of yourself and the connection between your mind and body. While in a yoga session, you can focus all your attention on you're breathing and muscles allowing you to focus on the present. By doing this, you are improving; not only your coordination, concentration, and reaction time but also your memory.
The meditative aspects of yoga allow a deep, spiritual connection. Yoga, when practiced regularly, has the ability to give you a sense or feeling of inner peace and that is the reason s