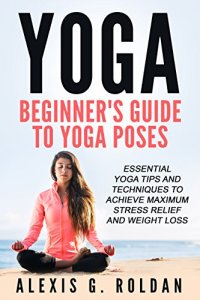 Free on 5th - 9th Feb 17



or borrow free on Kindle Unlimited.
No reviews yet.
For a limited time, get this Kindle book for just $0.99. Regularly priced at $2.99.
Practicing These Yoga Poses Can Help You Significantly Reduce Your Stress And Lose Weight
Yoga is one of the most beneficial practices to not only achieve maximum stress relief, but to also lose weight at the same time. It has been proven that by implementing a simple daily routine, you can significantly improve your overall health. This is simply because Yoga works, and it can work for you too if you just give it a try.
If you have been interested in Yoga but just didn't know where to begin, then this book is for you. In it, you will learn everything you need to know to get started. From learning the basics and different styles, to detailed explanations with photos of the 30 easiest poses you can master within minutes.
The information in this book will not only help you to feel more relaxed and at peace, but will also help you to look better by losing as much weight as you desire. These simple yet effective poses are sure to bring you the results that you have been searching for, both mentally and physically. So what are you waiting for? Buy this book and get started today.
Here Is A Preview Of What You Will Learn…
All The Basics You'll Need To Get StartedThe Many Styles And Health Benefits Of EachThe Most Common Mistakes People MakeThe 30 Most Effective Poses To Get StartedAnd Much, Much More!Download your copy of "Beginner's Guide To Yoga Poses" today. You'll be glad you did.