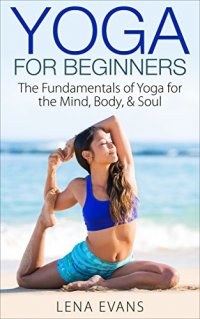 Yoga for Beginners
Today only, get this Amazon bestseller for $2.99 Regularly priced at $4.99. Read on your PC, Mac, smart phone, tablet, or Kindle device.
You're About To Discover How to Attain True Harmony of the Mind, Body, & Soul Through Yoga, So You Can Live A Life Full of Peace and Joy!
Most of us find ourselves seeking fulfillment from the outside world, living in a world that prompts us to reason that our achievements can bring us that contentment. Nevertheless, we all realize that what we have or what we achieve has nothing to do with the ultimate level of contentment that we experience. Instead, we are always looking for more to quench our thirst for material possessions and personal achievements.
In pursuit for that which seems to lie beyond your reach, you find that you are often caught up in doing things rather than being, more in action instead of awareness. You find it hard to picture a moment of complete repose and calmness where feelings and thoughts are in harmony. So, how can you get to this level of absolute calm, relaxation and nothingness so that you can enjoy being you? Simple; you have to engage in practices that make it possible to get there.
One such practice is yoga. So, how can you use yoga to get your mind, body and soul to a state of absolute calm? This book is meant to give you insight into the art of Yoga and most especially to help evoke coordination for your mind, body and soul so that you can experience true peace and happiness in your life.
Here Is a Preview of What You'll Learn:
What is Yoga?The Different Types of YogaHow You Can Benefit From YogaYoga Essentials and GuidelinesBasic Asanas for BeginnersHow to Create Your Own Personalized Asana PracticeComplementary Practices for YogaMuch, much more!

Download your copy today for $2.99 for a limited time only!
Tags: yoga, yoga for beginners, yoga books, yoga poses, yoga for weight loss, yoga meditation, spirituality, spiritual, flexibility, meditation, mindfulness, peace, relaxation, chakras, ayurveda