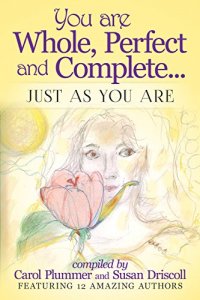 In the last year the idea that we are spiritual beings and life is spiritual journey is becoming more accepted. As spiritual beings we are whole, perfect and complete…just as we are. This book is a mosaic of women authors who speak from the heart and share their perspective or story on an aspect of being Whole, Perfect and Complete. Each will be a tale of success, or a reflection of the journey and wisdom gained. The expectation is the book will inspire others and energetically uplift not only the readers but the authors.

Deborah Bowman Stevens, Editor of You Are Whole, Perfect and Complete wrote,

"The hardest story to share and especially to write is your own—"You mean put my life out there in black-and-white for everyone to see? Yikes!" But if you knew that your heartbreaks, devastations, rights, wrongs, joys, accomplishments, and your very private spirituality could help even one lost spirit on the brink of a dark, tottering precipice of self-destruction: "Would you do it? Would you bare your soul for all the world to see?" In brief, this is the synopsis of "You are Whole, Perfect, and Complete…Just as You Are" written by 12 distinctly different women, yet gathered in a common cause to show the way to self-realization, self-acceptance, and self-love.

As women, we are faced with unique and pivotal concerns in our lives…especially mature women who have seen the world evolve, but not nearly enough. As little girls we were told to keep certain areas of our lives and feelings secret—"You just don't talk about those things, dear." Now in hindsight, we can see globally what those secrets have cost our fellow sisters…and ourselves.
Scream it from the rooftops, mountaintops, the uppermost gateways to the Universe, "I AM WHOLE, PERFECT, AND COMPLETE…JUST AS I AM…IN ALL MY WONDROUS COMPLEXITIES, FLAWS, AND BEAUTY! I HAVE RISEN FROM THE ASHES OF DEVASTATION AND I AM BETTER FOR IT…MY SUFFERINGS AND JOYS HAVE BECOME "ME" AND ALL HAS HAPPENED AS IT WAS SUPPOSED TO…I HAVE CONQUERED AND SO HAVE YOU, EVEN IF YOU DON'T KNOW IT YET!"
This amazing, emotional, gut-wrenching—yet completely positive—inspiring, uplifting, and joy-filled missive has truly been channeled from the angels and divine beings of the Universe and our Higher Selves. A must-read for women and men to break through the barriers that "WE" allow to hinder our inner beauty and potential.
"Catch the mists that bathe you in mystique; Own the clouds, light and dark, that surround your spirit; Love the sun that glows through you; and Most of all, pass it on to those who cannot yet see."—Quote by Deborah A. Bowman, editor, on "You are Whole, Perfect, and Complete…Just as You Are"