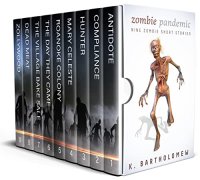 This collection contains nine zombie short stories taken from previous releases by K. Bartholomew.
A prime minister attempting to take charge of a deteriorating situation, the owner of an Indian restaurant feeding zombie meat to his customers, an obsessed zombie fan whose day has come, a failed actor being forced at mouth-point to appear in zombie propaganda movies, the first European arrivals in America, oh, and special guest appearances by Hulk Hogan, Kevin Costner, Hugh Grant, Tag from Friends and zombie Hugo Chavez.
What do all these people have in common? You'll find them all in the tales inside this compilation, although in what state, I can't say.
Included inside is the best-selling novella Zollywood as well as Compliance, which was widely circulated in magazines at the time of release. Also included is a very special bonus.
The following stories are included:
Antidote
Compliance
Hunter
Mary Celeste
Roanoke Colony
The Day They Came
The Village Bake Sale
The Widower
Zollywood
Plus Bonus*
Eat it now!