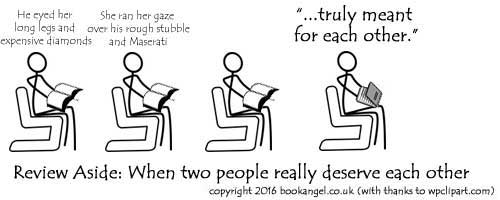 Review Aside
a.k.a. the comments that don't quite make it into a review…
Updates Monthly.
with thanks to wpclipart.com
More Cartoons
Review Aside - Apr 2017
Review Aside - Mar 2017
Review Aside Cartoon – Oct 2016
Review Aside Cartoon – September 2016
Review Aside Cartoon – July 2016
Review Aside Cartoon - June 2016
Review Aside Cartoon - May 2016
Review Aside Cartoon - April 2016
Review Aside Cartoon - March 2016
Discussion
Kindler
(8 October 2016)
Heh. Two shallow stereotypes getting what they deserve.
porridge
(8 October 2016)
Doesn't that define romance?
Kindler
(15 October 2016)
I thought romance usually included a hint of emotion, these two wouldn't recognise romance if it hit them in the face.
New to the site?
Leave a comment below or view the chat on our forum
here
:
You are commenting as a Guest:
Login
Or
Register
*Your email will not be displayed on the site. All message are held for moderation.