Listing on BookAngel:
---
HO! HO! HO! Adventures of a Mall Santa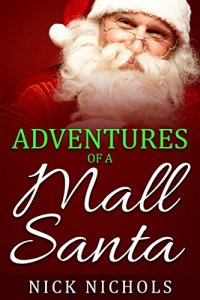 Last Free Dates: 19th Dec 17 to 23rd Dec 17
Free Today!
Read More

...An entertaining read for all ages, just rather short....
This slim volume describes Nick Nichols' stint as a mall Santa, after being volunteered by his manager after their Santa cancelled ("You're big, you don't need pillows"). I did briefly chuckle at how appropriate it was for Nick Nichols to play St. Nick – there seem to have been a run of rather appropriate author names recently – and then got on with the book.
There are a few typos and spelling errors, e.g. David for his boss` name, but in general the writing is of a good standard. These are the kind of stories you can imagine him retelling to his grandchildren, funny family reminiscences that can be shared over the years.
It is a light read, but funny and heartwarming, ideal for Christmas and I can only apologise that I didn't get the review out for then. If you want something to cheer you up, this is ideal. That said, it is a short read and I probably wouldn't pay much for it, but if you can get it free do. It would be good for parents to read to children – or at least the ones who know Santas in malls are Santa's helpers.
3 and an entertaining read for all ages, just rather short.
Rating:
3
Reviewed by
Reviewed on:
2018-01-12
Review Policy: No compensation is received for reviews. View our Review Policy here.