Listing on BookAngel:
---
Anais of Brightshire (The Blood Mage Chronicles Book 1)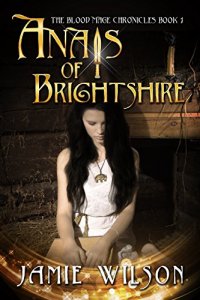 Last Free Dates: 6th Jun 20 to 10th Jun 20
Free Today!
Read More

...A short enjoyable fantasy, with a lot of promise for the rest of the series....
Apprenticed at a young age, Anais, the daughter of a poor fisher family finds herself apprenticed to the Great House, home to the local Lord. At first she is assigned to be a scullery maid, but after a run in with some of the others ends up becoming washing clothes, day in and day out instead. A chance encounter with the Lord's scribe, Thellium, allows her a chance at freedom when she is asked to buy items in the market for him. Along side the quills and parchments, she also buys a book of magic, supposedly forbidden in the area. Hiding it from him, she starts to read and then practice arts that should remain forgotten. Then while sneaking out one night she encounters the Lord's second son, Cedric, who is intrigued by Anais and her actions. They soon become friends and as their adventures begin to get them into trouble, old foes of the kingdom begins to arise again threatening them all.
This is the first in the line of a series of fantasy stories following the main character, Anais of Brightshire. This was a well written and enjoyable introduction to the characters, neatly setting up the plot for later books while describing the people and area around. The characters come across strongly despite their different outlooks and feel consistent in the way they act and respond. Anais' change from scullery maid to scribe's apprentice may be a little fortunate, but is still believable as it occurs. I didn't notice any errors or spelling mistakes and the chapters were easy to follow even with some time jumps between them. I read it through in one sitting, surprised by how easy it was to read and follow. The main events and the reasons for it crop up over again, so by the end it is fairly easy to remember what happened.
The only issue I have with the book is that, while it was short and enjoyable, it was very much setup for a longer story-arc. A taster from the second book begins to flesh out more of the plot and certainly changes a few things around.
However, if you enjoy the writing in this story, it is a good taster for the series.
Rating:
4
Reviewed by
Reviewed on:
2018-06-21
Review Policy: No compensation is received for reviews. View our Review Policy here.