Listing on BookAngel:
---
Baehrly Breathing (Goldie Locke and the Were Bears #1)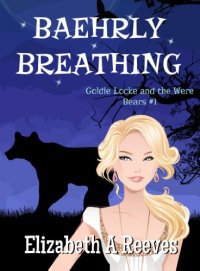 Last Free on: 29th Jul 17
Read More

...Paranormal romance fans will love it, and it has a wonderful take that to Twilight's imprinting. ...
There are two good ways to go when your mother gives you an overly cute name and Goldie went the second. She's the best investigator\attorney in the magical world.
The  plot is good but not original, and I spotted the motive early on. Any readers familiar with urban paranormal or the Old World of Darkness will do the same. *cough*SamuelHaight*cough*. However it moves smoothly with some unexpected twists and whodunit is harder to figure out. I can't fault the writing, which flows, has little repetition, and no grammar or spelling errors which took me out of the book. It was a relaxing and enjoyable read.
Despite the sometime gory deaths and murders this is a romance-come -mystery, so paranormal fans into the darker side of life may not enjoy it that much.
My main problem with this book is that I can't stand the lead male, her ex-boyfriend. She broke up with him because he wouldn't commit, then he decides to get possessive? Sorry mate if you really wanted her all you had to do was propose. It seems like he just wants her for sex and nothing more, doesn't want her to have other boyfriends, and one of his actions towards the end seems to have an ulterior motive of giving her no choice. This isn't a romantic lead, this is the archetypal 'creepy stalker dude'. I did cheer when she hit him, but as the series is named after him I hold no great hopes she'll get a bearskin rug in the future…
Goldie herself is the reason I kept reading. She's independent, has a life and personality of her own, and comes to life on the page. I might hope she would hit the ex harder and more than once, but you can't have everything. She even has hobbies outside work, which is a wonderful touch.
The book does stand alone excellently, but it is part of a series so for people wanting more, it is there. The sample chapter actually put me off the next book. One character developed issues he didn't have in the first book and was written out, while a certain character returned, and I sincerely hoped he wouldn't. If she ends up with him, it won't be happy ever after, it will be settling and that's just sad.
Paranormal romance fans will love it, and it has a wonderful take that to Twilight's imprinting.
Rating:
3
Reviewed by
Reviewed on:
2017-10-29
Review Policy: No compensation is received for reviews. View our Review Policy here.