Listing on BookAngel:
---
Black Volta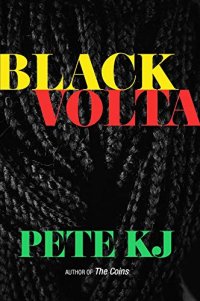 Last Free on: 31st Oct 19
Free Today!
Read More

...While this is a wonderful look at Ghana, it's people and culture, the plot is sparse....
Carlos Mario is a retired divorcee living out the remainder of his days in Puerto Rico. But events from his past in Ghana keep troubling his mind and he resolves to go back and confront the demons in his past. Elizabeth Morgan is a successful business woman, but finds herself taking care of her parents and younger sisters, while her brothers have moved on. But she finds herself at odds trying to arrange matters in Ghana while still trying to hold onto her life in America. Their paths cross when Liz asks Carlos to keep an eye on the house she is trying to have built, but he is more interested in trying to sort out his own demons while he is there.
When I picked this up I thought it was some sort of thriller, but it's actually a character and country study. It may follow the two leads and they way they deal with their lives, but behind it all is a detailed look at Ghana, the customs, the people and their way of life. In many ways the plot is secondary to the characters, merely there to let the author describe more of the way of life. What writing there is, is as slow and languid as the culture it represents, descriptive and moving. The characters come across clearly in who they are and what they are doing, although it takes a long time on occasion for them to do anything.
This the biggest problem with the story, in that it is long and a lot of the events that occur are there solely to explain a little more about the culture and don't impact the plot in any way. They are just there to provide more background and after a while you can start to skip pages that, while not repeating what has happened previously, certain feel like they are just there to give the same impression to the reader. It also didn't help that the connections between the two main protagonists seemed a little tenuous and one of the endings seemed to be spun quickly out of sheer co-incidence.
While this is a wonderful look at Ghana, it's people and culture, the plot is sparse.
Rating:
2
Reviewed by
Reviewed on:
2019-12-17
Review Policy: No compensation is received for reviews. View our Review Policy here.