Listing on BookAngel:
---
Love, Lies, and Hocus Pocus Cat Magic: A Lily Singer Adventures Novella (A Lily Singer Cozy Fantasy Novella Book 0)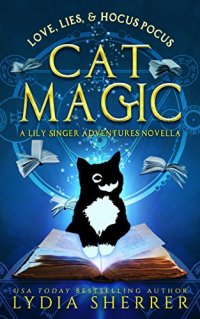 Last Free on: 20th Oct 18
Read More

...Everyone should give this a read, for a cracking story of a magical cat....
While the wizard is away, the cat will play, but that would be beneath the dignity of Sir Kipling, who instead resolves to keep an eye on matters while Lily Singer is away on business. Instead of being locked up in the house, he decides to ensure the safety of the magical library that Lily is responsible for. Of course, when Lily is away, it is the ideal time for unsavoury demon types to start snooping around trying to gain access. Sir Kipling finds he has to defend it from those who would try to steal its secrets, with little more than his wits and the assistance of an elderly wizard.
Cat magic is an excellent standalone book following Sir Kipling from the Love, Lies and Hocus Pocus series. Sir Kipling is a character in his own right, most certainly coming across as cat first and magical familiar second. The story helps to flesh out the world view and while simple enough, it brings extra colour and background to the main stories. The writing is quick, funny and serves well to highlight the difference in view points between cats and people, even magical ones. If there were any errors or mistakes, I was having too much fun reading it to notice.
The novella is also an excellent starting point for the main series, and the full adventures of Lily Singer and Sir Kipling. Fans of the genre will love it, as will anyone who likes cats. Everyone else should give it a read anyway, for a cracking story about a magical cat.
Rating:
5
Reviewed by
Reviewed on:
2018-10-19
Review Policy: No compensation is received for reviews. View our Review Policy here.