Listing on BookAngel:
---
Confection Connection: #3 Mina Kitchen Cozy Mystery Book - Comedy Capers of the Catering Crazed - with Recipes (Mina Kitchen Cozy Mystery Series - Book 3)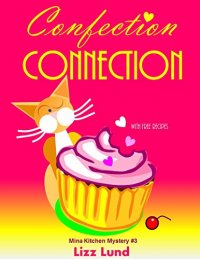 Last Free Dates: 27th Aug 21 to 31st Aug 21
Read More

...An excellent cooking, comedy crime caper that is well worth a read....
Mina Kitchen is not having a good time of it. Having a cooking compulsion and a series of part time jobs that start and end on the same day, doesn't help. She also finds herself caught up with a chef who may, or may not like her, her friends who all have their own issues including a ghost living in one of their houses and her neighbour who likes to clean her flat. After all, what else could go wrong in the lead up to Valentine's Day when she doesn't have a date.
Well the heavy snow and a van that only will only run with Gospel playing followed by a series of mysterious cheap sales in the area that the local shopkeepers cannot remember. Then again, her cat likes to convince her it will all be fine in the end.
I wasn't sure what to make of this book at first. Was it a romance, a crime caper or even a comedy that was being told. In the end, it managed to pull off all three with style and kept me reading as the story unfolded. I was quite surprised when I checked and found I had gone through half the book without noticing, as the story kept me intrigued as to just how much worse Mina's luck could get. The characters are well observed and excellently written and create a wonderful backup to the lead. This may be the third book in the series, but the cracking dialogue and sharp observations enable you to get right up to speed without having to worry about the previous books. The only detail that threw me was setting it in Lancaster. That is Lancaster PA in the USA, and not Lancaster, Lancashire in the UK, which did confuse me for the first part of the story. Just a note for any British readers.
But having read the book and thoroughly enjoyed it, I would have no hesitation in recommending it or even some of the other books starring Mina Kitchen.
Rating:
4
Reviewed by
Reviewed on:
2015-02-16
Review Policy: No compensation is received for reviews. View our Review Policy here.