Listing on BookAngel:
---
Cream Puff Murder: A Seagrass Sweets Cozy Mystery (Book 1)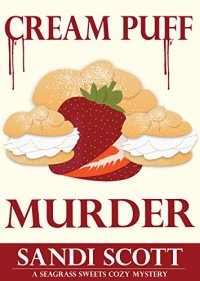 Last Free Dates: 22nd Jun 20 to 26th Jun 20
Free Today!
Read More

...an enjoyable and welcome addition to the genre...
Returning to her home town of Seagrass from Paris, chef Ashley Adams is running her new business with her partner Patsy. Matters are progressing nicely until they are catering for a large dinner. Shortly after hearing an argument in the toilets, Ashley finds that one of the arguers has been poisoned, shortly after she was last seen eating one of Ashley's cream puffs. Putting her pre-chef skills to good use as an IT Specialist and hacker, along with her friend Ryan who used to work with her, she sets out to find what happened before her business is ruined. In doing so, she finds herself embroiled in local politics and hidden secrets affecting all of Seagrass.
This cozy mystery seems to have all the right elements, but just seems to be missing that magical ingredient. The writing is funny, and the plot moves along with a variety of twists and turns as new suspects appear and are eliminated. The mystery is pretty clever, although the main issue with it, is that new elements keep being introduced through the story and not allowing for a clever reader to feel happy they can solve the mystery in advance. There were a few minor spelling errors and mistakes that were noticeable, but in general it was enjoyable to read. The characters are ok, but seem a little more caricaturish than usual and as a result I didn't feel that much of a connection to them, which meant that I didn't enjoy the story as perhaps as much as I could.
The background of ex-super hacker turned chef just seemed odd and while it fitted the story, you wonder why Ashley hasn't perhaps remained doing that job instead, as it isn't really explained who she became a chef in the first place, or met Patsy, other than she happened to be in Paris. A few more background details could really have helped solidify the characters and their traits.
However, it is certainly a welcome addition to the genre, and with other books in the series, if you enjoyed this one, there are plenty more to read.
Rating:
3
Reviewed by
Reviewed on:
2018-12-07
Review Policy: No compensation is received for reviews. View our Review Policy here.