Listing on BookAngel:
---
Darkest Wish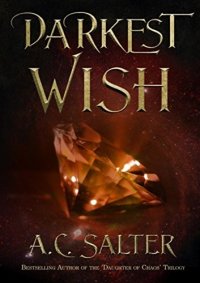 Last Free Dates: 1st Aug 23 to 2nd Aug 23
Free Today!
Read More

......
As his training as an elite warrior, a Shaigun, comes to an end, Bray finds that he has no role to go on to. Having put his past behind him, he watches his colleagues go off to apprentice for two Shadojaks, who are second only to the Emperor in the country. As there are no other Shadojaks looking for apprentices, Bray is left with three choices and to decide on one. To stay and become a teacher at the school, to join the army as a commander, or finally to apprentice to a missing Shadojak called Diagus, who nobody knows the whereabouts of. No sooner has Bray asked to apprentice, despite the knowledge that every Shaigun has died shortly after apprenticing to him, than Diagus appears to see if he is good enough to join him. Over the next few days Diagus puts him through his paces to see what skills he has before deciding that he may barely be good enough. After that, Diagus explains he has been missing when he ventures to a different world to protect it from creatures that stray to it from Bray's own. But Bray has his own secret, his parentage that gives him preternatural abilities that might keep him alive longer than most. With that he accepts the journey he may never return from, only to find how different this new world is.
This short fantasy is the prequel setting the scene for one of the main characters and where he comes from. The plot is fairly simple setting out some of the backstory and introducing some of the early action to show how Bray and Diagus met. It certainly sets a vicious tone for what they are capable what is likely to carry across to the main novels. What does surprise me is that Diagus is supposed to have disappeared and no-one knows where he is other than several rumours, but it seems a wide variety of people have interacted with him and know exactly who he is. While they might not know where Diagus has gone, he is far from the missing, unknown, person he is initially made out to be. The characters are a little larger than life, but given what they are capable of, it fits them as they are all mighty warriors capable of taking on all manner of people and beings. Bray's initial testing by Diagus is as you would expect, as he is put through several trials and Bray seeks to prove his worth. Obviously Bray must be good, because he manages it in a few days, when it might expect to take weeks or even months. I will give a positive nod towards the writing style that puts a lot into the book in a few words. The pace is fast and moves the action consistently from scene to scene with little let up between the action. Something is always happening to pull the story along and explain the situation to the reader as Bray finds out more and more of what is going on.
Looking at the book, it is well formatted and clearly laid out. There are a couple of spelling mistakes that caught me out, but in general it reads fine. Only half the book is the short story, the second half is the opening chapters of the main novel this short leads into. So, if you enjoy this short, you can see how the main novel goes and see if you want to read more.
Overall, fantasy fans are likely to enjoy this and if you do, there is plenty more off the story to get stuck into.
Rating:
TBC
Reviewed by
Reviewed on:
2023-04-14
Review Policy: No compensation is received for reviews. View our Review Policy here.