Listing on BookAngel:
---
Deadly Love: A Short Story of 'Incest' and Murder in Eighteenth-Century Scotland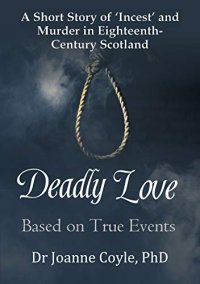 Last Free Dates: 5th Sep 19 to 8th Sep 19
Read More

...Great for lovers of true crime and history mysteries, not so great for romantics, and ideal for historians....
In Scotland, 1765, a dashing Lieutenant was executed, his unit under lock and key to stop them charging the gallows. His crime? Allegedly helping his brother's wife murder her husband so they could be together. The result is the case of Katherine Nairn and Patrick Ogilvie that was controversial at the time, and has been debated ever since.
This is an exploration of an actual historical case, more mystery than romantic love story, horror or thriller. The author's personal theory seems credible and, although I haven't exactly researched the case, Anne Clark's name has been advanced as a suspect by many historians covering the case. Had "Cui bono?" been applied, the case may have had a different outcome. While it covers facts, it manages to steer the fine line between salacious gossip and dry recitation, keeping the reader's interest. Those after purient thrills will not find them, but those after an interesting examination of controversial Scottish history will find an enjoyable diversion here.
On an odd note, I spent much of this book thinking I'd read it before. On checking, I'd read something very similar, the 1765 public domain piece: "The Trial of Katherine Nairn and Patrick Ogilvie, For the Crimes of Incest and Murder". Then I found the first footnote in 'Deadly Love' refers directly to this and credits it, so it is a case of similar sources. I will say that 'Deadly Love' is most definitely easier to read (unless you're comfortable with eighteenth century english!).
Covering presentation, I judged this book by its cover when I picked it for review, and didn't regret it. Overall the layout is clear and it is easy to read. Somewhat annoyingly, there's a [1] footnote in an early paragraph that you can't click on – the Kindle just brings up its dictionary/highlight tool when I tried. A formatting oddity is the foreword ending with an obvious hard page break, but there being no title on the next page as it just goes into the main text. It isn't a great issue, but is jarring.
As a short summary that touches on the details and major controversies surrounding the case, this is ideal. If anything I have one small bone to pick with the author: why isn't this book longer! It is a fascinating case with a lot of little issues that, due to the length of the work, were not touched upon. While it has been covered before, a modern examination by an author of this calibre would be welcome.
In summary, this is great for lovers of true crime and history mysteries, not so great for romantics, and ideal for historians.
Rating:
4
Reviewed by
Reviewed on:
2019-09-19
Review Policy: No compensation is received for reviews. View our Review Policy here.