Listing on BookAngel:
---
Dessert Recipes for Chocolate Lovers. The most decadent recipes for cakes, pies, brownies, cookies, fudge, ice-cream & more!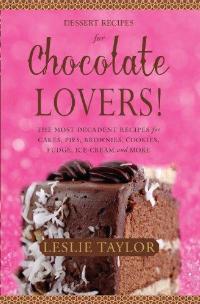 Last Free on: 21st Nov 17
Free Today!
Read More

...4 stars. A great cookbook for cooks of all levels. Not good for dieters....
You blew my diet. You monster. 4 stars.
I'm not entirely joking when I say the cover on its own is mouth-watering. A gorgeous slice of chocolate cake on a pink background with a chocolate-coloured title. This book wears its theme up front, and in case you missed it on the title there's another photo of a cake shortly after the copyrights. These photographs are professional level.
To get the non-fattening part of the review out of the way, the formatting is excellent. Recipes are laid out with clear headings and Ingredients and Preparation are seperated and presented in readable, easy-to-follow, lists.
This brings me to the content. Dessert Recipes isn't just a recipe book. There is a section up front covering the history of chocolate, differences between different types, and other additional interesting background information. However its real value does lie in the recipe lists, and these are well done. Not only are they clearly and legibly formated, the author has the knack of explaining quite complex recipes in very simple steps. This book is approachable even for novice cooks and people who have never worked with chocolate.
There are a few errors I spotted in the text itself (e.g. a sentence that begins with "permitting" and not "preventing") but nothing significant that would affect a recipe. I haven't tried the recipes out yet, so I can't tell how well they turn out from personal experience, but the steps all seem rational.
4 stars. A great cookbook for cooks of all levels. Not good for dieters.
Rating:
4
Reviewed by
Reviewed on:
2013-09-01
Review Policy: No compensation is received for reviews. View our Review Policy here.