Listing on BookAngel:
---
EVERNOTE : EVERNOTE ESSENTIALS: The Ultimate Guide To Master Evernote For Complete Beginners (**2015 Edition**) (Productivity)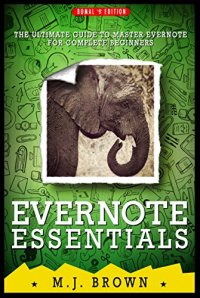 Last Free Dates: 1st Feb 15 to 5th Feb 15
Read More

...A user's guide to evernote, this does exactly as it says on the tin - as long as you don't mind the hard sell to upgrade to a Premium account....
A user's guide to Evernote, this does exactly as it says on the tin – as long as you don't mind the hard sell to upgrade to the professional version.
The how-to content starts at Chapter 2 with installation, so I will start from there and backtrack later on. The installation description is beautifully simple and easy to follow, with links to the site you will need to make it as easy as possible. The formatting is straightforward, with short punchy sentences and screenshots to help users along. There's no technical jargon to confuse users, although there are a few spelling mistakes e.g. "Annoucements" at 32%. My main concern was whether my data would be stored on my own PC or uploaded and put on the less-than-secure cloud, and the book answers that (eventually), confirming that Evernote syncs every time it is used.
As a user guide it is not bad, and the instructions are clear and easy to follow. This won't make you a master, but it will get you using the software comfortably. Although advanced users may end up hunting for the answers to more complex questions, the book isn't aimed at them. It would do to get someone completely non-technical started with Evernote, but I'm not sure that someone who needs it would be technical enough to carry a device with them at all times in order to use Evernote. However, these are not the reasons it loses points – those are slightly more annoying.
The downsides of this book are the constant reminders (and heavy selling) of the Premium account, which began to irritate me by the time I was halfway through. The first chapter was less a guide to Evernote and more of a sales pitch for it. Several large sections of the book are devoted to productivity management, and designed to sell Evernote as the only tool ever needed.
The list of plugins and apps are useful, but in some places this is less an instruction manual for a reliable app and more like instruction on how to make your entire life rely on the app. The book also has the ever-annoying request for reviews at the end, complete with cute kitten pic.
However, it does actually provide the service it describes, and for that I will give it a 3.
Rating:
3
Reviewed by
Reviewed on:
2014-09-15
Review Policy: No compensation is received for reviews. View our Review Policy here.