Listing on BookAngel:
---
Fat Cat Bedtime Stories: Settle in and follow the adventures of Fat Cat (Fat Cat Books 1, 2, & 3)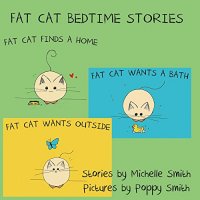 Last Free Dates: 7th Oct 14 to 11th Oct 14
Read More

... It is easy to read, easy to follow, and fun....
It's rare that I review a book for non-readers, but this is a book that should either be read to a child, or read along with a child who is still learning letters. This is definitely a book for the very young, and the just learning to read.
This book contains stories about Fat Cat, a cat who is fat and finds a home with a family. The first is about him coming home from the rescue centre with his new family, then there are FatCat wanting to go out, wanting pettings, etc. These are all stories that will be very familiar to cat owners of any age, and by spacing them out one a night, you can keep children going for a while. It is easy to read, easy to follow, and fun.
There are a few grammar errors, including sentences starting with "And", but given the intended audience I'll give it a small pass. The are a couple of cultural issues: one of the characters is named "Wee", which did give the children I tested it on a laugh (for overseas readers, in some parts of the UK this is slang for small, but in others, it is bathroom-related) and tacking an "R" onto the front of SPCA.
The book is in full color, with beautifully simple illustrations on each page. It has large text, all in capitals and using a hand-written font, which is surprisingly easy to read. A very nice touch is the "Fat Cat Outtakes", little pencil sketches that show th design sketches for Fat Cat.
As a free book, I can't really fault it. However while download is usually expensive (£5.99 due to the illustrations), the book is also available in paperback from Createspace. Given the age range of its target audience that might be prefered.
For something quick and easy that children can puzzle their way through while learning, or something that parents can read to children, this book is something to consider – or pick up while it is free!
Rating:
3
Reviewed by
Reviewed on:
2014-10-10
Review Policy: No compensation is received for reviews. View our Review Policy here.