Listing on BookAngel:
---
Hexed in Texas: A Humorous Fantasy (Baba Yaga Chronicles Book 1)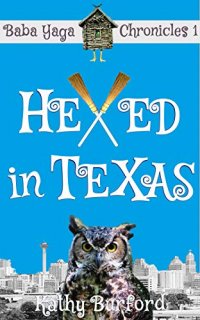 Last Free Dates: 30th Sep 21 to 4th Oct 21
Read More

...a fun magical story with three interesting leads...
Rachel Vargas works in a crummy job with a mean boss in San Antonio, Texas. Her boss wants to become a Daughter of Texas, protecting the Alamo site, while Rachel wants a better life. A life that is about to become infinitely more complicated by the release of pent up magic in the area attracting the attention of two very powerful witches, Baba Yaga and M. C. Laveau. It doesn't help when Rachel is hexed for nearly running Baba Yaga over and the local community finds out what a Russian Witch is capable of. The fact that the magic is leaking from an excavation at the Alamo, where the rocks are now talking to her and anyone else around, leaves Rachel trying to stop whatever magical event is approaching, as well as undo the curse which is affecting her life for the worse.
Hexed in Texas is a humorous contemporary fantasy mixing old legends and the modern day. The plot takes a while to get started, first introducing a myriad of characters who populate the area as well as those attracted towards it. The plot revolves more around the interaction between the main characters rather than towards what might be happening with several side plots interwoven providing more for the lesser characters to be involved in. The main characters come across well as they do what they need to do to achieve their aims with the rest coming across clearly through the chaos that has descended. The author obviously knows her works, and the lack of understanding between Baba Yaga and the modern day is highly amusing. The spelling and grammar were fine, but there were a few places were sentences and paragraphs were repeated, which were jarring when they occurred. The only other gripe I might have is that the end came a little out of nowhere and that it leads more towards setting up the next book instead of closing off this one. Also Baba Yaga's sisters are mentioned a lot, but don't actually appear in the book.
Overall, it's a fun magical story with three interesting leads and definitely one for fans for the genre.
Rating:
4
Reviewed by
Reviewed on:
2020-05-14
Review Policy: No compensation is received for reviews. View our Review Policy here.