Listing on BookAngel:
---
Lord Blackwood's Valentine Ball: An Authentic Regency Romance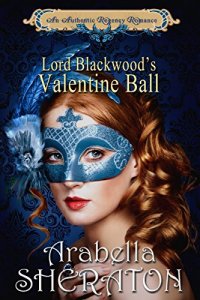 Last Free Dates: 22nd Jan 22 to 24th Jan 22
Free Today!
Read More

...A fine romance for fans of the genre to enjoy. ...
A year after her mother has died, Patience Cherwell is still single and in her thirties looking forward to a life alone even under the wing of her guardian Henrietta Paisley. She is also hosting Lorna Hartley, a vivacious beauty from York, who is in love with Lord Blackwood and it appears, that he is in love with her. At a picnic in the park, her thoughts seem to be confirmed of the burgeoning romance between them from the discussion that she has with Lord Blackwood on the nature of romance with a younger person. With this in mind, she grudgingly agrees to go to Lord Blackwood's Valentine Ball, where the guests will be masked and the Valentine's identified by the posies they carry such that the gentleman may express their love. While she expects disappointment, it seems that someone has something else in mind.
This is an excellent regency romance that hits all the right notes. The plot may be short and simple, but it neatly sets up the premise of Patience's misunderstandings of the world around here and the underhanded matchmaking that is going on under her nose. While the twist in the story is actually fairly obvious from the start, it is still well set up and half the fun is waiting for the story to unfold and laughing at the Patience as she completely misses what is going on right in front of her. The characters are as you would expect from a regency romance, the gentleman are upstanding and the ladies are either flighty or dainty. As a short romance, everyone is perfectly straight and normal, there are no dastardly or evil people, although a certain amount of cunning is on offer.
There are a few formatting errors that have crept in at the end of each chapter, but I didn't notice any spelling or grammar errors serious enough to take me out of the story. Also, the thought of a picnic in February seems a little risky given the usually inclement weather at the time, not to mention the ducklings that have appeared a little too early in the year.
Overall, it is still a simple, enjoyable romance, that will have you smiling at the misunderstandings and musings on love and romance. For fans of the genre, looking for a quick diversion, this is recommended read, with the prospect of a main story to follow if you enjoy this prequel.
Rating:
4
Reviewed by
Reviewed on:
2021-12-23
Review Policy: No compensation is received for reviews. View our Review Policy here.