Listing on BookAngel:
---
Murder at the Brothel: A sensationally gripping, unputdownable read. A steamy psychological mystery that will have you guessing until the very end...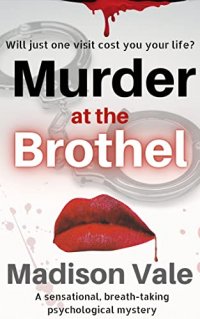 Last Free Dates: 10th Aug 23 to 14th Aug 23
Free Today!
Read More

......
Esme Valentine runs a London brothel when one of her long time regulars is fine gruesomely murdered in one of the rooms. Shut down temporarily by the police, she starts to carry out her own investigation to find out what happened. The only clue she has is the word "Payback" written at the scene of the crime. Concentrating on her punters, she starts looking into who might have a grudge against either her or the murdered victim. Despite her best efforts, she finds nothing, only for the brothel to be completely wrecked. With no other choice, she has to put aside her investigation, and focus on recovering her business, but guessing that the same person is responsible for both events. Getting things up and running, she gets things back on track only to get knocked out by an unknown assailant. Waking up in the boot of a car, it looks like the person she was searching for, has found her first.
I'm always curious about stories that label themselves as unputdownable as generally they are not. I'm happy to say this is one of the few I have seen where I started and kept going all the way through to the end. Yes, the content of the story strays into the explicit, but then given the title what would you expect, and it comes across far more as part of the story than an attempt to be titillating. The plot starts with a bang and doesn't let up for the course of the story, there are twists and turns within it and I will be honest, I didn't see the ending coming. As for the characters none of them are likeable, not even our lead protagonist with her own slightly dubious and very pragmatic set of morals. They all fit into the murky world portrayed, all with their own secrets and kinks that gives the world a gritty, dark feel to it. Everyone knows that it is a dubious world they live in, but are more than prepared to get on with their lives if it wasn't for the murder that kicks everything off and causes all the problems. This is helped by the writing which paints a vivid picture of their lives and the circumstances that got them there. While I may not agree with several of the choices and decisions made by the characters, it certainly made for fascinating reading. You can understand why they do what they have to do and it never felt as if they were anything less than real.
The formatting of the book is messy, it goes directly into the chapters and there are no gaps between them. There are no author notes, table of contents or attribution in the book, which does surprise me somewhat. There are a couple of spelling and grammar errors through the book, but nothing too obvious.
Overall, I enjoyed the story, it was a fast, intriguing thriller that lived up to its promises that fans of the genre should enjoy.
Rating:
TBC
Reviewed by
Reviewed on:
2023-03-31
Review Policy: No compensation is received for reviews. View our Review Policy here.