Listing on BookAngel:
---
Mystery on Mount Dusk: Volume 1 (Mount Dusk Mysteries)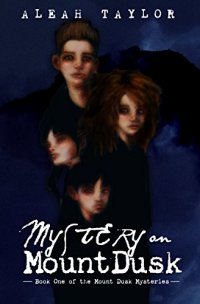 Read More

...This is an enjoyable children's book that is a good read for adults as well....
George Mutton and his family are moving from the country to a small village in the countryside, set in the foothills of the haunted Mount Dusk. He then discovers an old mystery enveloping the town between two of the oldest families that lived there and that the trees at the top of the mountain now contain the spirits of one of them. Then it appears that the Uncle of his new best friend Charlie is somehow involved. George then decides to try and unravel the mystery with the help of his little sister, to try and free the spirits and break the curse, all the while dealing with dark magic and an evil circus troupe that has somehow come back to life.
This is an enjoyable children's book that is well pitched at the 10-12 age range, though its a good read for adults as well. The language used is clear, understandable and descriptive allowing readers of all ages a chance to follow the well crafted plot that slowly grows to encompass more and more of the town as the story continues. The characters develop well throughout the course of the story and have good reasons for their actions whether for good or for ill. The background and magic in the book is fits in to the story and it remains consistent. There are a few moments which may be scary for younger readers, but I think most will enjoy watching the protagonists overcoming their fears in the story.
Overall, I would be happy to recommend this to readers.
Rating:
4
Reviewed by
Reviewed on:
2015-09-25
Review Policy: No compensation is received for reviews. View our Review Policy here.