Listing on BookAngel:
---
Out Of The Darkness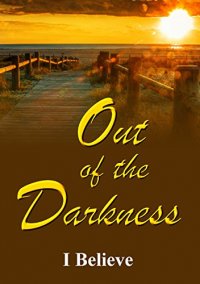 Last Free Dates: 3rd Jul 15 to 5th Jul 15
Read More

...This book made me feel cheated. Whether it is a true memoir or not, it is an advert...literally designed to sell you the book: "The law of attraction"....
It's not often I critique a memoir, but this was submitted under Self-help, and there's a further issue that I will cover later.
This is a pseudonymous book by "I Believe", so no author is named. To cover presentation first, there are spelling and grammar issues throughout, and not just those you would expect from the casual tone of a memoir. Place names are not capitalised (e.g. 'cyprus') and there are some odd typos: 'The sun was shinning every day.' (I didn't know it had legs). These occur on almost every page: 'misconstrude', 'dredded', etc. "Of" and "off" are confused frequently and commas and apostrophes are not where they should be and sometimes are where they shouldn't be. It makes it extremely hard to read.
It begins as a typical "from rags and abuse to eventual triumph" memoir come mislit, and is fairly typical of the abuse stories common in recent years. The child abuse sections are sadly realistic and far too believable. It seems confused about its location however, using US school system educational terms, yet giving prices in pounds.
However, then she joined the police – quite a specific UK force in fact – and a member of our group who is retired raised a few serious red flags. Dates are hard to follow and rarely mentioned, making it hard to construct a time scale but distinct factual issues cropped up, e.g. the 'no woman has ever joined a firearms unit' said in the 2000's when woman have been in them since 1988*, and no mention of rifle training, only hand guns. On the force she mentions specifically, we were told that British fire arms police do not patrol with live guns, they are on permanent stand-by. We got an offer to check it with an actual woman performing this role, but then we reached the ending and fact-checking really did become irrelevant.
On loc 1595, the first mention comes up of "The law of attraction", a self-help book that turned her life round. It was the first of many mentions of the book and its author from then on, culminating in an ending that was basically, a list of how her entire life was fixed simply by this book – new job, new partner, going on long holiday, getting married etc. – and reassurance it can fix it for you to. Finally there is an epilogue literally designed to sell you the book: "The law of attraction".
I continued to the end of this only because memoirs normally need a delicate hand, and I have on occasion let the author know and sent back a corrected manuscript for free rather than put a review up. I made extensive notes to this end, regarding content, writing, spelling errors, need for dates, confusion, fact issues and more. Then I saw the end and chucked the lot.
The book made me feel cheated. Whether it is a true memoir or not, it is an advert and the skin of a memoir is being used to get people to read it. If it was under fiction I would be kinder. It isn't.
I would suggest skipping this one. I wish I had. Rated purely on presentation, plot and spelling, the first is poor, the second has a deus ex self-help resolution, and the third occurs frequently and is awful.
1/E Rated
*Women have been Firearms Officers since 1988 when 22 joined, so claiming that she was the first some time after 2000 "(the precise claim being "100% of women fail") is not true. In 2007 there were 15 in the Met alone (http://www.standard.co.uk/news/met-aims-to-bring-more-women-into-firearms-squad-6652534.html).
Rating:
1
Reviewed by
Reviewed on:
2016-01-31
Review Policy: No compensation is received for reviews. View our Review Policy here.