Listing on BookAngel:
---
What do you see: do you see what i see (test your brain Book 1)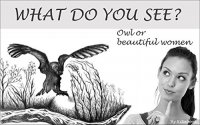 Last Free Dates: 9th Jul 17 to 13th Jul 17
Read More

...If you're bored on a commute or trying to kill ten minutes, these eye puzzles are a great way to unwind. ...
This is a collection of pictures with different interpretations, like the old vase-or-tw0-faces image that most people know.
I wasn't expecting to give this a high rating, as most of these collections are re-used. However after showing it round the club and having a very enjoyable evening turning Kindles round and trying to see all the interpretations (and find a few unintentional ones), I'd have to say it was a really good book.
There is a mix of pictures from old-style traditional images with creatures and people hidden in tree outlines, up to photographs and digital manipulations. Each image is shown and then when you click to the next it shows the image with the likely options so if you haven't found both you can use this as a hint.
It is definitely more fun to share with people, but if you're bored on a commute or trying to kill ten minutes it's a great way to unwind.
Rating:
4
Reviewed by
Reviewed on:
2017-08-29
Review Policy: No compensation is received for reviews. View our Review Policy here.